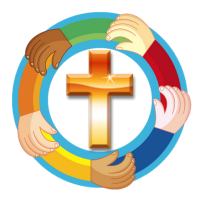 Scripture: 1 John 4:7-21 (focusing on 7&8)
Preparation: If you do not know the song you will need to learn it. Having guitar or piano with it is not necessary, it's easily teachable in camp song style fashion.
Faith+Open: Gather children with you. Say, Have you ever memorized something from the Bible? (take answers if given) Some people know Psalm 23 really well and a lot of people know the shortest verse: Jesus wept. Say a verse that you know.
Faith+Share: Knowing some verses by heart can help us to remember God's words in our daily lives. It's fun when a bible verse comes to mind when you hear something. Today our 2nd reading comes from the book of 1st John and there are two verse there that are good to memorize, "Beloved let us love one another because love is of God and everyone that loves, knows God. They they love not, know not God." These verses can help us to remember that no matter what happens God loves us and we are to love one another–that is how we show we know God, by acting in love. I think the best way to memorize verses is to learn them with music. Let's learn a song that will help us remember these words from God.
D                                      A7
Beloved, let us love one another,
For love is of God, and everyone that loveth
D
Is born of God, and knoweth God.
D7
They that loveth not, knoweth not God
G                  Em
For God is love.
D                    A7                   D
Beloved, let us love one another. First John 4:7 and 8
Here is a link to hear a version of the song: Beloved, Let us love one another
Faith+Prayer: God, thank you for your words of love. Help us to love one another and remember your words each day. Amen
Faith+Blessing: Remember what Jesus says to his disciples: Do not be afraid and peace be with you. +
~LB
*permission to use for nonprofit purposes. When printing give credit to Faith Formation Journeys. Intellectual property rights apply.