Bring the children either to the back of the worship space or another spot but not up front or where you usually gather for the children's message. Have a simple map (hand drawn is fine!) of the worship space.  Also have a simple compass on the map.

What do I have here? (a map, guide, picture of the worship space, etc.). Yes, this picture or map shows me what the space looks like and how maybe best to walk around in here. It guides me to where I need to go!
In today's story Paul and and some of his friends were traveling all over the region. Paul and other early Christians traveled quite a bit to tell other people about Jesus and God's love and forgiveness for the whole world. God came to Paul in a vision, like a dream, and told him to go to a distant place where people needed to hear about Jesus. Paul went and when these people heard about Jesus and how much Jesus loved them, they believed in God and were baptized to show the whole world that they were a child of God. Paul didn't go there because PAUL thought it was a good idea-Paul and his friends went because God led them there and told them to go. God was like Paul's map or guide. Paul wasn't on his own but had God with him and all of his friends with him. God makes sure that we have people with us so that we are not alone.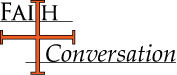 Let's use this map to walk from here the back of the room to the front of the room (or whatever you want to do). On our way let's see who will join us on our journey. (Weave your way through the congregation and every now and again stop and tell someone "Jesus loves you. Come with us!" Gather the larger group at the front or even by the font.
Wherever we go we can share God's love and not worry because God will guide us! What are ways that you can share God's love at school, on the playground or at soccer practice, etc.?

 Pray: God you guide us everyday throughout our whole lives. Thank you for being with us always. We will tell everyone we meet about you and your love! Amen.
 God is with you always. (Make the sign of the cross on one another.)