Guest writer–Pastor Michael Stadtmueller
Scripture: Romans 5:1-5
Prep: On Facebook or through other social media ask your members to share some ways that they have experienced God in the world this week.   Let them know you maybe using some of their answers in this weeks upcoming worship.  Make sure you can share a few different short stories collected in one sentence answers.

Gather the children. Welcome them to worship

Read from verse 5 of Romans, "God's love has been poured into our hearts through the Holy Spirit that has been given to us." Tell them that we believe that God is revealed to us in many ways through the Holy Spirit, and that today we celebrate the 3 separate ways in which God has been made revealed to the church.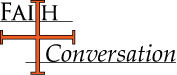 (Trinity Sunday can be difficult to grasp when we get caught in the doctrine, so instead speak through the ways we experience God.) Share the images of how God has been revealed to your congregation members.  And ask the children to share where they have seen God.  Then ask the kids… which one was the right answer?  Remind them that God is most certainly revealed through the Father, Son and Holy Spirit, and that we know this means that all of these answers are ways in which God has been revealed.
Remind them that a joy for a Christian is seeking to find how God is being revealed in their own lives and sharing that joy with others.

God the Father, Son and Holy Spirit we know that you are active and present in our world today.  We pray that you would help us to point others to your ever present Grace by revealing yourself to us.  Amen

In the name of the Father, Son and Holy Spirit you are loved by God. (have children repeat this)