Preparation: purchase bandaids and have markers
Scripture: Luke 10:25-37

Gather the children and welcome them to their time with you. Show them the bandaids and ask, "Have you ever used one of these? What are they for?" Be prepared, children usually love band aides and owie stories! Say, "Yes, they are helping to protect and owie and for giving the cut or scrape time to heal."

Our Gospel story today, the story about Jesus, is one where a man is very hurt and needs help. Two people who seemed like they would be friends and ones to help just go past him and then a third person who is someone from a place where the man doesn't think they will help is the one to stop and give him water and take him to a place where he can get bandages. And Jesus tells this story saying that God asks us to love God and to love our neighbors and then he asks who is the neighbor? So who do you think the neighbor is? (take answers) Yes the one who helps.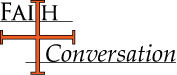 Now there are all kinds of ways we can talk about our hurts and how we need help. Sometimes our hurts are those that we can see like this cut (show one you have or one that the kids have shown you) or maybe they are bigger hurts like someone having surgery or breaking a bone. And how do we help someone like that? (take answers) Yes, we can carry things for them, open doors, bring them food, make sure they have medicine. But sometimes our hurts are on the inside and we can't see them on other people and they might not even tell us about their hurts. How do we help those kinds of hurts? (take answers) Yes, we might be able to give hugs or listen to people's words or maybe someone has held you or given you comfort. And we can pray for them too. Jesus story can also help us to know that we can share the hurts we have on the inside and let others pray for us and care for us and help us to know God's love and healing and we can do that for other people too.
Hand out the bandaids. On this bandaid you can write a prayer or a hurt that you have or a hurt that you know someone else has. Then put it on and let it remind you to talk to God about that hurt.
Another option: if you have an open space or time for people to go to stations in your service, have bandaids and markers there and invite the children and the rest of the assembly to participate in that station.

Jesus, you know all our hurts. Help us to let others know when we need to hear about your love and when we need their help. Also be with us when are helping others. Amen

Mark the sign of the cross and say: May you know Jesus' healing of your hurts today and always.