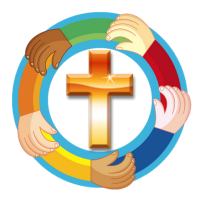 Preparation: Palms for the kids and/or whole congregation and a hymn or song with Hosanna
Scripture: John 12:12-16

Gather the children–you may want to do this at the beginning instead of at the tradition time but either way will work. Give each child a palm branch and show them how to wave it in the air.

"Today is Palm Sunday! Does anyone know what you are holding? Yes, a palm branch. We have palm branches today because in our scriptures today we are told about when Jesus came into Jerusalem. Does anyone know what he was riding on? Yes, a donkey. And the people who knew who he was were excited to see him and welcomed him into Jerusalem by waving palms, putting their coats on the ground as a sign of honor and by saying the word Hosanna! Do you know what this word means? It is a way of showing honor and calling Jesus God–saying Save us Jehovah or save us God. The people where saying they believed Jesus was the son of David and the son of God. So we can shout today also Hosanna! Every time you hear that word I want you to shout i back and wave your palms." Lead the children on a parade through the church. If your choir has a song they are singing with Hosanna do this then or have the congregation sing a hymn with Hosanna and lead the children around the sanctuary waving palm branches. End at the altar and invite the children to lay their palms at the altar.

God, we thank you for sending Jesus to save us, to love us, to show us how to live in your world. Amen

May you know the love of God. Hosanna!