For this household devotion you will need your Bible, one set of colored ribbons four inches long (white, purple, green, brown, red, orange, yellow or gold) for each member of the household. Read Luke 11: 1-13. Many children's Bibles have the Lord's Prayer in them.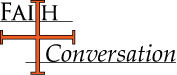 For children: When have you heard these words from the Bible before? We say this prayer often in Sunday morning worship, typically before Holy Communion but not always. Did you know that much of what we say and do in worship comes from the Bible? This prayer is one that Jesus told his disciples to pray. Jesus wants us to talk to God and tell God everything that we are happy about, sad about, worried about, wondering about, angry about or anything at all! What do you talk to God about during the day?
For youth/adults: The Lord's Prayer is one that encompasses nearly every aspect of our lives. Jesus wants us to take everything to God who loves us deeply in prayer. Does God answer every prayer? When was a time that you felt that God did not answer your prayer? What do you think about these times? When was a time that God did answer your prayer? It's very difficult when we pray for things that we think are prayers that God should answer not for ourselves but for others. If we don't get the answer we want does it mean that God didn't hear us or that the answer is "no"? For me, I think God's answer to us is always "yes," we just don't always understand the "yes." In our perspective, God's "yes" might look like a "no." We may have to be open to how it is a "yes." It's easy to forget that prayer is not just asking God to do something but is also about how we might participate with what God IS doing. What is our role in prayers being answered if we are to be the love of God in the world? How can we keep prayer a dialog with God (us talking and listening)?

 Before you pray as a household, make a simple Lord's Prayer ribbon bookmark. Take each of the four inch strands of ribbon and tie them together in this order: White Our Father who art in heaven, hallowed be thy name, Purple Thy kingdom come, thy will be done, on earth as it is in heaven. Brown Give us this day our daily bread; Red and forgive us our trespasses as we forgive those who trespass against us Orange And lead us not into temptation but deliver us from evil. Yellow (Gold) For thine is the kingdom, and the power , and the glory, forever and ever. Amen.
Pray the Lord's Prayer together before meals this month.

 Paul writes in 1 Thessalonians 5: 17 "pray without ceasing." Our whole lives should be continuous prayer. This month if you have young children, walk your neighborhood stopping to pray for people or places. When you return home, make a list of people or situations in your neighborhood that you will pray for this month. That list may grow! In households with older children or no children, have sticky notes handy when you are watching the news or reading the news. Write down people, places and situation that you will pray for this month. Change the list as often as you would like.

 (make the sign of the cross on one another and say) Remember you are loved by a God who listens.