Tag Archives: Good Shepherd Sunday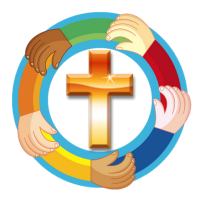 Preparation: You will need several small bowls that you can dip into the font to fill with water. The more children you have the more bowls you will need.I would make sure that the font is very full this Sunday!

Gather the children around the baptismal font.

Say: Today one of our stories from the Bible is called a Psalm or a poem or song. We have 150 of these songs or poems in our Bible and they talk about all kinds of things from being sad or mad at God, worrying about the future, praise and saying thank you to God. Today's poem is about life with God and how much God loves us. The writer of this song says that God's love and goodness pursue us-chase us down everyday of our lives! God is chasing you with love!  Have you ever played tag? What if when we played a game of tag we were giving hugs! We might have to be careful so that we don't knock anyone over-that wouldn't necessarily be loving, but would you maybe want to be caught if you were getting a hug or a high five instead of getting "out" of the game? (Accept all answers-maybe they don't want to be caught even for a hug!) Just as God chases us with love God wants us to show love too! Maybe we don't really run after people to attack them with a hug or a high five, but anytime we talk to someone, or are with someone it's a time to catch them with God's love. In Psalm 23, God catches the writer by being with them when it is scary, giving them food when they need it and by putting oil on their head which a long time ago was a way to show someone that they were very special. When we baptize some one we pour water on their head to show that they are very special to God and to tell the whole world that they are a child of God.
We have water in this baptismal font and it is where we tell people how God has caught them in God's love forever. I am gong to make the sign of the cross on each of you with water to remind you that you have been caught. Do you know what else? All people have have been caught in God's love! We can't sprinkle water on all the people of the world but we can sprinkle the people sitting here today! Should we gently sprinkle water on all of these people to remind them that just like the writer of Psalm 23, God chases them with God's love and catches them always? Yes!
(Have some small bowls that you can dip in the font to fill with water. The kids can dip their finger in the water and "splash" people in the congregation.)

 Dear God, thank you for chasing us with your love! Help us to show everyone we meet that we are all caught by your love and forgiveness. Amen!

 As the children and youth sprinkle with water have them say, "You are caught in God's love."