Prepare:  Find several action figure toys, some that are inherently good and some that are inherently bad, and two boxes or baskets to sort them into.

  Have the action figures out for the children to see as they gather (yes, this will be "dangerous" in terms of distraction).  Ask them if they have a favorite superhero (or whatever relates to what you have with you)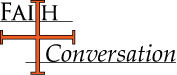 It sounds like you guys have some good favorite heroes!  I have some here with me, and I think that I have some good guys and some bad guys, but I'm not sure.  Can you help me sort them out?
(Take some time to sort the good guys and the bad guys into the baskets or boxes)
Wow, thanks!  So, I'm going to guess that we all like the good guys, right?  Those are the ones that we want to play with most of the time, right?  I like having some bad guys around so that the good guys can be heroes and save people, but I always want the good guys when I play.  But, which box do you think belongs to God, the good guys or the bad guys?  We will get back to that question later.
That makes me think of the Gospel story that we hear today.  Jesus is walking through a town when a Roman soldier comes to him and asks Jesus to heal his servant, who is really sick.  Well, really the Roman soldier sends some of the Jews in the town to talk to Jesus, because the soldier thinks that he is not good enough to talk to Jesus!  When Jesus goes to his house, the soldier says that Jesus should not come in because he is not worthy to have the Lord in his house, Jesus needs only to speak the work and his servant will be well.  Jesus is amazed by the soldier's faith and heals the servant with a word.
I think that everyone would agree that most of the Roman soldiers were the "bad guys" where Jesus lived.  People were afraid of the soldiers and would do what they were told to do.  So, why would Jesus help this soldier?  (See if you get some answers – but steer them to – ) Because God loves everybody!  So, back to our heroes and villains.  Which box belongs to God?  (Steer them toward both boxes!)
Yes!  Both boxes belong to God, because God loves everybody.

  God of Love, we rejoice in the love that you shower on us!  Teach us to rejoice with you in loving the people we would call our enemies.  Help us to share your amazing love throughout all our days and with all people.  Amen

  In the name of the Father, Son and Holy Spirit you are loved by God. (have children repeat this)
~GB (thank you to Pastor Michael Stadtmueller for the great idea!)
Permission to use for nonprofit. When printing give credit to Faith Formation Journeys. Intellectual property rights apply.