Gather the household around the dining table. Jesus was dining at a Pharisee's house in this passage. Have some perfume or scented bath oil available. Share highs and lows for the day with each other and pray about them together.

Read Luke 7: 36-8:3 The story of the woman forgiven and the women who traveled with Jesus.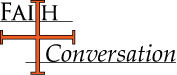 For children: When was a time that you had to tell a friend that you were sorry for something that you had said or done to them that wasn't very nice? What did they say to you?Have you ever had someone tell you that they were sorry for being mean or not nice to you? What did you tell them when they said "I'm sorry"?  Did you forgive them? God loves us so much that God sent Jesus to tell us that God forgives us all the time, no matter what! That doesn't mean that we can do whatever we want and it's ok, we should try to love like Jesus loves us. But what that does mean is that when we mess up, we get to try again!
For youth/adults: The woman in the this story is so compelled by what she has heard about God through Jesus, that she seeks him out in order to show her gratitude. We don't know if she has ever had any real contact with Jesus personally but we do know that she fully believes that Jesus reconciles her past and gives her a hopeful future where she is no longer in shame. Forgiveness is tricky, God forgives all sins and sinners, even people that WE may not think deserve it. We may lie a bit, or just innocuously cheat a little but other people who kill or steal large amounts or worse….do they also get the same forgiveness? Jesus is saying here, yes. That is difficult for us many days. What would it mean for our society if we really lived the way that Jesus forgives and reconciled? What would it mean for us personally? What would it mean to be able to go about our days "in peace"?

Forgiving Lord, your gifts of faith and forgiveness are freely given to us all and yet can be hard for us to accept. Help us to show great love to all people and for all of creation. Allow us to live our lives in the peace that only you can offer us. In Jesus name, amen.

Use the perfume or the scented oil and make the sign of the cross on each other's forehead or hand. Say, "Your sins are forgiven; go in peace."

The woman cleansed Jesus feet in response of God cleansing her whole being. Let's focus on collecting toiletries for a local food pantry or shelter for the month of June.