Read the children these verses out of a children's Bible (my two favorites are the Spark Storybook Bible and the Jesus Storybook Bible). Many of the children's Bibles will incorporate this story with the foot washing scene. Adding those verses is a wonderful idea!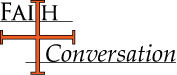 Ask the children, "How can you tell if someone is a good reader? How about a good soccer player? Or a dancer? (Accept all answers) We know when someone can do something when we see them do it right? Just talking about it doesn't always tell us what a friend can do. We have to experience them doing it don't we? How do people know that we love God? (Accept all answers) When we do things that help others, are nice to others or stand up for people who other people are not being nice too, right? What if we SAY that we love God but then treat someone not very nicely? Do you think that people will know that we love God? No, maybe not. Jesus says that if we love one another-each person we meet-then the world will know that we follow Jesus. That's kind of hard though all the time isn't it? I know that I am not nice all the time to people! Does that mean that I don't love God or that God doesn't love me? NO! It means that God loves me enough to say "try again" and "again" and "again" and "again…." You get the point! But we should try every day to let people know that we love God, God loves us and God loves all people.
            We are going to show everyone here that we love them and God. I have little cards printed up that say "Jesus loves you" (see attachment). We are going to give those to everyone here and give them a hug or a high five or give a blessing (see below). You can even take some of these cards with you to give to friends or other family members. (Have enough printed up for all people to take a few with them when they leave.)

 Dear Jesus, you love us so much. Let us show the whole world how much you love all people. Amen.

 (Make the sign of the cross on one another)  Jesus loves you and so do I.