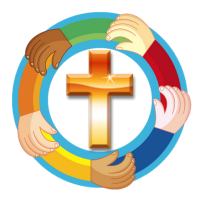 Prepare:  Bring a copy of your church's mission statement, and/or the mission statement of the broader church organization your congregation is part of.  Bring a Bible and mark Isaiah 61:1.
Faith+Open:  As the children gather ask them if they know what a mission statement is.  Take a few answers.  Some of them might get close, but offer a clear definition in any case, something like, "A sentence or short paragraph that says the goals and values of a company, organization or person."
Faith+Share:  Did you know that our church has a mission statement?  Here, listen to this (Read the statement.  Read the statement of your wider church organization, too if there is one.)  What do you think about that?  Why do you think that we have a mission statement like that?  (So people know what we believe, what things we think are important, what kinds of things we want to do as a community, things like that.)
Well, I think that today we get to hear Jesus' mission statement in the Gospel reading.  Jesus went back to his home town and went to his home church and got up to read from the scriptures.  Now here's the tricky part, was Jesus reading from the Gospel?  No, of course not!  Those were written after Jesus did all this amazing stuff.  Jesus was reading from what we call the Old Testament or Hebrew Bible.  He was reading from a book called Isaiah, and we still read stories from Isaiah today.  This is what he read – (Read Isaiah 61:1-2).
That's a pretty good description of what Jesus did, isn't it?  Are there parts of this scripture that we can do, too?  (Wait for a few answers.)  Yeah, those are all great ideas, let's pray.
Faith+Prayer:   Jesus, what an amazing mission statement!  Help us to live within your mission and to show people your compassion and love in all that we do.  Amen
Faith+Blessing:  Shine with God's light so that all may see God's Glory.
~GB
Permission to use for nonprofit. When printing give credit to Faith Formation Journeys. Intellectual property rights apply.