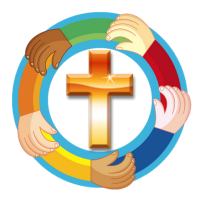 Prepare:  Bring your purse or wallet with some ideas about what you have in there that tells about who you are.
Faith+Open:  As the children gather, ask them to look around at your worship space and look for things that tell them they are in a worship space (crosses, candles, baptism font, etc.)  Take a few comments about what they see.
Faith+Share:  Good job!  Other buildings have things that tell about them, too.  Schools have classrooms and desks; libraries have books.  Did you know that people often carry things that tell about them, too?
Let me show you, here is my wallet (or purse).  I keep some important things in here, some of them tell a whole bunch about me.  (Here are some examples from my wallet for you, please feel free to come up with your own!) My driver's license has my picture, my address, this little heart in the corner means that I'm an organ donor, this "m" means that I ride a motorcycle.  That a pretty important thing that I carry, isn't it!  What else is in here?  Oh, look at this!  It's my Starbucks Coffee Gold Card!  This means that I drink way too much coffee.  I have credit cards, too, and business cards.  All of these things can tell you a little bit about who I am and what I think is important.
In our Gospel story today, we hear about something that Jesus did that started to make people wonder who he was.  Does anyone know what he did?  Let me give you a hint, he was at a big party and they ran out of wine to drink.  (Give a minute for answers.  You can give a few more hints if you have time, or just continue if they don't get it)  He turned a bunch of water into wine!  This was the first time that Jesus did something that we call a miracle that we know about.  That is a sign that tells us Jesus is special.  This wasn't a magic trick, it was a miracle!  Do you know the difference?  A magic trick can be explained.  If this was a trick he would have hidden the water somewhere and replaced is with wine, but Jesus didn't do that.  Jesus changed the water into wine, and not just any wine, it was the best wine!  And no one can explain how he did it.
Jesus performs many miracles in the Bible.  He heals people, he feeds people, he even brings some one back from the dead!  Listen for the miracles of Jesus as we read through the Bible in church this year.
Faith+Prayer:   God of Wonders and Miracles, WOW!  We love you for the amazing stories about miracles and for all the gifts that you have given us.  We love you for our family and friends, for beautiful planet that we live on and the endless universe that we live in.  Thank you for all you love and care for us.  Amen.
Faith+Blessing:  Shine with God's light so that all may see God's Glory.
Adapted from SPARK Sunday School curriculum.
~GB
Permission to use for nonprofit. When printing give credit to Faith Formation Journeys. Intellectual property rights apply.