Gather either around or near your tree!

Tell where you see God at Advent & Christmas and where you need God at Advent & Christmas.

Psalm 96:11-13
11Let the heavens be glad, and let the earth rejoice; let the sea roar, and all that fills it;
12let the field exult, and everything in it. Then shall all the trees of the forest sing for joy13before the Lord; for he is coming, for he is coming to judge the earth. He will judge the world with righteousness, and the peoples with his truth.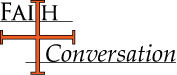 This tree is a blessing to our home. It reminds us of all that is beautiful, all that is filled with the gentleness and the promise of God. It stands in our midst as a tree of light that we might promise such beauty to one another and to our world. It stands like that tree of paradise that God made into the tree of life, the cross of Jesus. If you have young children or like good stories you may want to read "The Three Trees" by Angela Elwell Hunt
How can the Christmas tree remind you of the story of the birth of Jesus? How will it bless you in this Advent/Christmas season? How will you be a blessing to others?

Join in prayer together thanking God for where you see the Holy Spirit active and asking for help in where you need God this year.

Loving God, we come with joy to celebrate the birth of Jesus Christ, whose path of justice and inclusivity lights a path for all who follow him. May this tree, arrayed in splendor, remind us of the life-giving cross of Christ, that we may always rejoice in the new life that shines in our hearts. In Jesus' name. Amen.
Now make the sign of the cross on one another and say, "Child of God, remember that you are a light of God's love. Amen"
~LB
May use with permission for non profit only. Intellectual property rites apply.