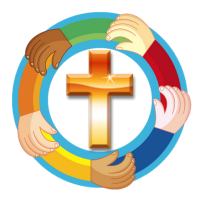 Scripture Focus: John 18:33-37
Prepare: Find a fancy crown, a crown of thorns, a wash basin, a towel, and a palm branch or palm cross (if you can find one). Put everything but the fancy crown in a box or bag to keep it out of sight.
Faith+Open: Have the fancy crown out as the children gather. Ask them what the crown makes them think of.
Faith+Share: When I see a crown like this, I think of kings and queens, and knights and princesses, too! And today is Christ the King Sunday, they day that we celebrate Christ as King of everything. Except, do you think about Jesus when you see a crown like this? Yeah, me neither. What about this crown (pull the crown of thorns out)? What story about Jesus does this make you think of? Right! This is a reminder of Good Friday, but that wasn't really a great day for Jesus, was it? I mean, he was arrested, he was yelled at and hurt, and things just got worse. Not exactly the glorious kind of day that we usually hear about with kings.
What about this (pull out the palm branch or palm cross)? Yeah, I think of Palm Sunday. That was a much more kingly day for Jesus, don't you think? People where lining the street and cheering for him, and putting palm branches and cloaks on the ground in front of him. He was riding on a donkey, though, not a big powerful horse like I would imagine in a "king" story.
Or what about these things (the basin and the towel)? Remember when Jesus used things like these to wash his disciple's feet? Well that's not a kingly thing at all! They should have been washing his feet.
It seems like Jesus is not the kind of king that we typically think of. He rides on a donkey, he washes other people's feet, and he wears a really painful looking crown. His kingdom isn't really the same either. In Jesus' kingdom the special people are the people who serve others. The important things in Jesus' kingdom are not wealth and power, but love and mercy. In that kingdom Jesus makes the perfect king. Jesus is even the king over death! Yes, he died on Good Friday, but he was raised to life on Easter! So, on this Christ the King Sunday we celebrate the Kingdom of God, and the promise of mercy and love for all.
Faith+Prayer: King Jesus, teach us to serve others as you served your disciples. Teach us to be humble like you were when you rode a donkey. Teach us to show love and mercy to all, in Jesus name we pray. Amen
Faith+Blessing: May God's grace and mercy be with you all.
~GB
Permission to use for nonprofit. When printing give credit to Faith Formation Journeys. Intellectual property rights apply.