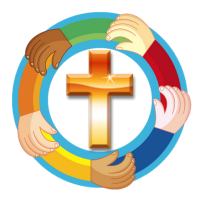 Scripture: Isaiah 25: 6-9 or Revelation 21:1-6a
Preparation: A chair for every generation you have in your worshipping community and someone to represent them. There are 5-6ish living generations-depending on your source. Roughly: GI Generation (1901-1924), Silent (1925-1945), Baby Boomers (1946-1964), Gen X (1965-1985), Gen Y (1978-1990), Gen Z 1995-2007 or today)
Then 2 extra chairs-one on each end- to represent the generations that have all passed and the ones yet to be born.
You can prep people ahead or just call people forward to sit in their chair, whatever is more comfortable.
Faith+Gather: Gather the children with you and in front of the empty chairs (or if you would rather have the people in them already that is fine too). Explain the chairs and generations to the children saying that they represent all the different ages living now.
Faith+Share: Ask them, "Why do we have empty chairs on each end?" Take their answers and guide them to understanding that the empty chairs show the generations of people who have not been born and also the ones that have all lived before us. Continue with a simple explanation of All Saints Day, "Today we are remembering all the people who have gone before us and specifically we will say the names of the people who died this year. We call this All Saints day not because they are people that never did anything wrong but because they were people who were important in teaching and living faith in God even t hough they had struggles and sorrows and joys just like we do. We take time to remember that God's promises are for us and that they have been passed down and told to us because of the generations before. And these living people–they are the saints that tell us the story now and share their faith with each other and with the next generations. And this other empty chair shows that there are people yet to be born that will need to hear the story. And who will tell them about God's promises and love?…. That's right, you and the others who are here to live and walk in faith with them."
Share the scripture: "God promises to bring new life to us here on earth and to restore us all together in God's kingdom. It's a promise for the future but it's also a promise for today that God is here with us and loving us all through our lives no matter our age."
Faith+Prayer: Let's pray together and then we will offer a blessing to all the generations. Jesus, you give us many people to share the story of God's love. Be with each person, young and old, and be with us today as we remember the people who have died and how you love them too. Amen
Faith+Blessing: Have the children stand and gather around the chairs placing their hands on heads and shoulders. Say this blessing together or have just the leaders say it:
May you know the love and presence of God who is here in all ages. Amen
~Idea submitted by Rev. Michael Stadtmueller, written by Rev. Leta Behrens
Permission to use for nonprofit. When printing give credit to Faith Formation Journeys. Intellectual property rights apply