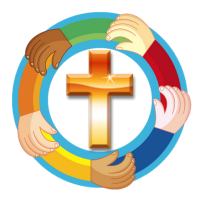 Scripture Focus: Ephesians 1:3-14
Preparation: Bring a baptismal certificate from your church, or even better, bring your own Baptismal certificate.
Faith+Open: Gather the children near your baptismal font if possible and ask them if they know what this place in the sanctuary is for. If you cannot gather at the font, talk about baptism as the children come up, maybe remind them of the last time someone was baptized at you church.
Faith+Share: That's right, this is where we baptize people! (In my setting we always have water in the font and the children are used to being splashed with water as we gather.) I bet you are wondering why we're here, since the stories today don't really seem to talk about baptism at all. Well, it's because one the part of the letter to the Ephesians that we read makes me think about baptism! In that letter it seems like Paul, or whoever wrote the letter, is writing to a group of people who don't think of themselves as children of God. He says this great thing in the letter, he says, "He destined us for adoption as his children through Jesus Christ." (Ephesians 1:5 NRSV)
Many of the people in this part of the Bible were totally new to the stories about Jesus and God. Many of them probably felt like they did not deserve the grace and love of Jesus. Maybe because of where they were born, or what they used to believe, or because of things that they had done. The author of the letter is telling them that even if they were not born into a community that believes in God and Jesus, they are still part of the family. God adopts them as God's own children and gives them all the good things that Jesus promised.
We hear the same message today! Even when we might not feel like we deserve God's love or forgiveness we still get them! God loves us and seals us with the Holy Spirit, which brings me back to baptism. Baptism is one of the ways that we are reminded that we are all one family in God's love and care. When we baptize people we give them a certificate to remind them of the amazing gift of God's love and our adoption into God's family.
Faith+Prayer: Loving God, thank you for this amazing family! Teach us to love and care for each other the way that you care for us. Amen.
Faith+Blessing: May your eyes be opened to see all the amazing works of God the Father, Son, and Holy Spirit.
– GB
Permission to use for nonprofit. When printing give credit to Faith Formation Journeys. Intellectual property rights apply.