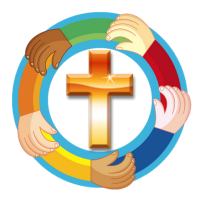 Scripture: 1 Samuel 15:34-16:13
Preparation: crown (paper is fine), robe (shawl or scarf works), oil or lotion.
Faith+Open: Gather the children to you. I'm wondering, how do you know if someone is anointed? Hmm, well what does anointed mean? I think that kings and queens are anointed… how do you know if someone is king or queen? (take some answers but move along in your out loud wondering). Yes, you might know if they have on a crown like they do in storybooks (put crown on your head or head of a child) or maybe a robe (put shawl on shoulders)… you know anointing is more than just clothes though. When someone is anointed it means they have been marked for something special.
Faith+Share: In our scriptures we hear about a boy named David who was anointed by God to be king. A priest named Samuel came looking for a king for Israel who would love and obey God. He went to a man named Jesse who had many sons. After Samuel had met all the oldest sons and he asked if there were any more and Jesse said, 'well yes, but he is young and small and taking care of the sheep.' Samuel wanted to meet him anyway and when David came, SAmuel knew that this was the one whom God would choose to make king. So Samuel anointed David with oil, he took oil and marked his head with it and some time later David did grow to be king. 
**as an alternate or if you have a longer children's church time you can read from Spark Storybook Bible or from Jesus Storybook Bible or other children's bible to tell the story.
We are anointed by God too… not to be king of Israel, but to be marked as someone special, a child of God. We are anointed with water or even with oil in our baptisms when we say, "child of God you are sealed by the Holy Spirit and marked with the cross of Christ forever" This means that we are God's child no matter what our whole lives. It is a reminder that we belong to God and that God loves us. Now, look at my forehead, can you see where I was marked? (show your forehead)… No… it is not like a crown or a robe that we can always see. But we know that it is there and we know that we are called to live as God's children in the world.
I have oil/lotion here as a way to help you remember and to anoint you today. Mark each child with oil or lotion on their hand or forehead.
**or invite them to dip their fingers in the baptismal font and mark themselves.
**or teach them about the anointing station you will have later in the service and invite them forward.
**or pass out a small bottle of lotion to each one and have them rub into their own hands as a reminder of anointing
Faith+Prayer: Holy God, we are your children. We thank you and praise you for being our God. Help us remember that you have loved us and anointed us to be your child forever. Amen
Faith+Blessing: May the mighty wind of the Holy Spirit set your Faith on Fire!
~LB
Permission to use for nonprofit. When printing give credit to Faith Formation Journeys. Intellectual property rights apply.