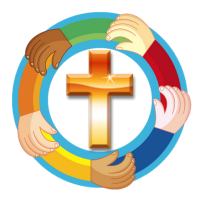 Scripture Mark 3:20-35 (can also work with 2nd Corinthians 4:13-5:1)
Preparation: You will need blank pieces of paper, a black marker or crayon, and other colors. If you have children's worship bags the kids will have what they need. If not, provide a way for them to grab some crayons or markers on their way back to their seats.
Faith+Open: Gather children to you and welcome them. Today, in our gospel lesson, a crowd is gathered to hear Jesus teach and debate with those who oppose him. The crowd tells Jesus that his mother and brothers are there to see him and Jesus says something a little surprising… do you know what? He says who are my mother and brothers–all the people of God are my mothers and brothers. So it can kind of sound like Jesus is rejecting his family, but he's trying to show that he came for all people. So he loves not just his mother and brothers but all who were following him and really all people whether they knew him or not.
Faith+Share: When we think about all the people that we can call family, who do you think of? (take answers building up to neighbors and people that we know at church) 2nd Corinthians "I believe so therefore I speak"–and we are to speak in love to and about God and to about our families. I have here this paper that I want to use to make a scribble prayer. Prayer is a good way for us to talk to God and for us to tell others about God. You can let someone you know and care about know that you pray for him or her and that shows your love for them through God. 
Draw a scribble and show the kids the sections. Write the names of people or groups that they have talked about as being in their family as people they can pray for. Then do a small amount of decorating–OR even better have another that is finished to show them. This idea is adapted from Worshipping with Children–click the link to access the original idea.
Invite children to do this scribble prayer back in their seats.
Faith+Prayer: God, thank you for calling us all your family. Help us show your love and speak to you and about you. Amen
Faith+Blessing: May the mighty wind of the Holy Spirit set your Faith on Fire!
~LB
Permission to use for nonprofit. When printing give credit to Faith Formation Journeys. Intellectual property rights apply.