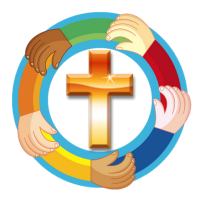 Faith+Open: You may want to change up the service order and do the Children's + Time early in the service. Gather the children around you. Have the boxes that you buried the "alleluias" in nearby and have them decorated with Easter symbols. Ask the children what is different in the sanctuary this morning (lilies, white paraments, etc.) and why we are celebrating today. Jesus is Risen!
Faith+Share: ( Retell as much or as little of the gospel text as is fitting for your service.) This morning we heard the story of the tomb being empty and God raising Jesus from the dead! We know that because of what God did in Jesus that we don't have to worry about death and we will live with God forever in God's love. This makes us so happy! When you are happy what words do you use to let people know that you are happy? (Maybe a "woo hoo" or a "yippee" or a "yay"!) In the church, one of the happy words that we say to let God know that we are so thankful for God's love is alleluia. Can you say "alleluia"? (Have the children repeat it several times LOUDLY! Invite the congregation to participate!!) Remember when we put that word in this (these) box (es)? Well, we have a lot of songs to sing this morning with alleluia in them I think that we should let the alleluias out! What do you think?
Open the boxes slowly, the helium balloons with the "alleluia" pieces of paper from Lent taped to them should (hopefully!) "rise" up to the ceiling.
Say: Because Jesus rose from the dead, our "alleluias" rise up to God to say thank you for Jesus! We can let our happiness go up to God!
Faith+Prayer: Sing "Hallelu, Hallelu, Halleuia, Praise Ye the Lord" song or another song with "alleluia" or "halleluia" in it that the children know before ending Children's Time.
Prayer: God, we thank you for the empty tomb and that Jesus did not stay dead. We know that you love us and that we will live with you always. We thank you, God, for happy words like Alleluia that you always hear. Alleluia! Amen!
Faith+Blessing: Have the children raise their hands up in the air. Say: God always hears you! Raise your joy to God! Alleluia!
*Note: Depending on the size of your congregation, try to have a balloon for each child present. Put long strings on the balloon to make them accessible. The most cost efficient (as well as to ensure that the balloons have enough helium to float) is to buy a small tank at a party store or even a major retailer. Find a volunteer to do this Easter morning. Alternatively, if you are concerned about the balloons being a distraction… have only a few balloons at Children's Time but have a volunteer to hand out balloons at the close of service. Balloons should not be given to children 3 years of age and under.