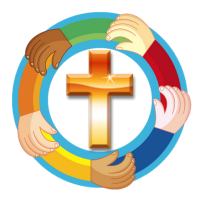 Scripture: Mark 1:4-11
There are so many wonderful children's stories on baptism. Consider for this Sunday reading the Gospel from the Jesus Storybook Bible as one way to tell the story. Other resources are Welcome, Child of God by Anne Ylvisaker–a very short board book that can be read in worship. Or Come Right in Your Home God says when we are Baptized. These books could be read at the beginning or in the midst of this children's sermon if you have enough time or they could be out on display for ideas for others. Augsburg FortressWashed and Welcome series has some great resources. 
Also a note that the children's sermon for January 1 could be adapted for this Sunday as well
Faith+Open: Gather the children with you either in the usual place or around the baptism fount. One idea would be to have the fount up near the altar for this Sunday.
Faith+Share: Today we are remembering and focusing on the baptism of Jesus and what it means for us to remember our baptism everyday. What are some things that you do everyday? (take answers–brush teeth, eat, drink, etc) Yes, we do all those things everyday! There is something that was not mentioned that I would like us to do everyday as well–that is remember our baptism. Do you know what baptism is? (take answers and fill in with information if needed while summarizing) Yes baptism is when a person, lots of times a baby, is marked as a child of God with water and oil. We say you are 'sealed with the Holy Spirit and marked with the Cross of Christ forever'. We are baptized once, but we are to know forget about it but remember and live out that we are children of God everyday.
OPTION: insert one of the stories or show pictures of Jesus baptism from a children's Bible.
One way that we remember this is by knowing that the Holy Spirit is with us all the time. We are given the Holy Spirit but we also give the love of the Holy Spirit to others. Can you put one hand on your tummy and another out in front of your mouth? Now take a deep breath in and feel your tummy go up. (Do this together). Now let that breath out and feel it on your hand. Our breath goes in and out everyday just like the Spirit is with us and goes out to those around us everyday. We can take deep breathes in and out to remember and to know God is with us all the time. We can also remember our baptisms when we use water–like when we brush our teeth or take bath and we cans say a prayer.
Faith+Prayer: Let's practice that now: Keep your hands on your tummy and take a deep breath in and out. Now prayer with me. God, thank you for your gift of baptism. Help me remember that I am a child of God everyday. Help me to share your love and grace. Amen
Faith+Blessing: Go in peace remembering you are a precious child of God + in the name of the Father Son and Holy Spirit.