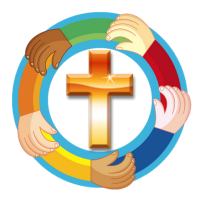 Preparation: Have some netting from fruit or other sources cut into hearts, one for each child at least. Have a large fishing or butterfly net handy.

Today go through the worship space and personally invite all of the children (or anyone else you want!) to follow you. Bring a fishing (or even butterfly net) with you and pretend to "catch" the children in your net. Be a little quick about it and if the children are in the "middle of doing something" tell them to immediately drop what they are doing and come with you. By the time you arrive at the spot where you normally hold children's time, some of the children will have been following you for a while.

Ask: "Why did you come with me when I asked you to? (If some child refused and it's possible ask them why not?)" Accept all answers but hopefully someone will say something around that they knew you, they kind of knew that it was children's time and wanted to go, etc. "It's easy to follow someone when you might know where they are going or what they are doing isn't it? Have you ever had your mom or dad tell you that you were going somewhere that you had never been before? What was that like? Was it a little scary or strange?" Accept all answers. But you know that your mom and dad love you and so you knew it would be ok.

In our story about Jesus today, Jesus is walking around, sort of like I was walking around the worship space this morning, and was calling people to come and follow him. The people he called in this story were fishermen. They caught fish for a living. But Jesus wanted them to come and catch people for God. Did Simon, Andrew, James or John have any training in telling people about God? No. We don't even really know if they knew Jesus that well, or had even heard of him! They didn't really know where Jesus was going but they sensed that Jesus was safe and loved all people. They were caught by Jesus' love for us all! So they followed knowing that somehow it would be ok.
We, too, are caught in Jesus' love and Jesus calls us all to share God's love wherever we are and wherever we go. No matter what else you are doing, even when you're older and have a job like your mom or dad, your first job in your life to tell others about Jesus! Jesus' love is like this net that catches us all and connects us all to each other and God. We can catch people with Jesus in the net God's love! (Have hearts cut out of netting to hand to each child and even adults!)

God of love, we are grateful to follow you. We are thankful that we are caught up in your love each and every day. May we be nets of you love in the world. In Jesus name, amen.

Have a large net on a cross for a prayer station. Have 4 x2 (or so) fish or hearts cut out for people to write prayers of thanksgiving for all of the ways that we are caught in Jesus' love!

+You are caught in Jesus' love+