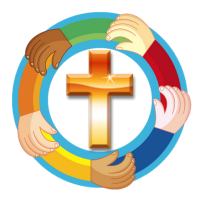 Scripture: Jeremiah 31:27-34
Preparation: something you can say or sing 'by heart'–UPDATE and a Greek or Hebrew or Latin Bible.
Faith+Open: Gather the Children. Do you know anything by heart? A song or a poem that you can say without looking at paper or having someone help you? I know _____________ by heart. Share a short song, Bible verse, piece of the catechism, whatever you know by heart!
Faith+Share: Jeremiah tells us that God says, "I will put my law within them, and I will write it on their hearts; and I will be their God, and they shall be my people" What do you think it means to have something written on your heart? (you can refer to last week's children's message if you used the Shema. Ask them if they were able to say this week and if they know it by heart)
It means that because God first gave us this gift of love and faith, we can know something in our hearts we can live in a way that shows we know God. What are ways that we can show we know God? (how we treat others and ourselves, creation, reading the Bible, learning songs and verses that help us remember God loves us).
Show them your ancient language Bible. Ask a child to read to you from it--Oh you can't! So if you can't read what the scripture says it makes it difficult to know what it is that God has written on our hearts and they ways to know God. Martin Luther, a man who lived a long time ago, wanted people to have the chance to know God through the Bible and to learn things by heart not only by listening but by reading them. Before him only people who knew an ancient language could read what God's word said. Now we have Bibles in all languages and all kinds of formats to help us know God by heart.
Faith+Prayer and Blessing: My hope for you is to know some things by heart. Let's pray, "God help us to know you and to know that you love us no matter who we are–we are always yours." Amen
Let's work on knowing by heart that God is with us all the time by learning this blessing(or saying our blessing if you use this often OR pick one you do use often)
Make sign of + saying:
God in my head
God in my heart
God on my left
God on my right
Amen
Extension Ideas
1. Teach them a song like Love the Lord your God (see Children's Sermon Pentecost 19A)
2. Teach them the Lord's Prayer or another prayer
3. Have the children share songs or stories or poems they know by heart.
~LB