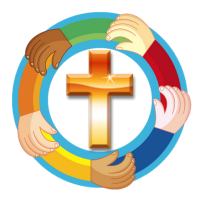 Preparation: Have a couple of maps handy to show the children. Have one that is very simple that even a young child could point to a well defined location on the map. Use that map for your object lesson. Have crosses (one for each child or for everyone present!) cut out some printed off or old maps to hand out.

 Be reading a map as you ask the children to join you where you lead children's time. Look confused and turn the map every which way. Say to the children, "So I'm trying to figure out how to get to (town or location close to your church marked that they would know). I'm looking at this map but I can't make heads or tails of it. Can you help me?" Show the children the map and hopefully they will point to the location! If not, you can help them. Say, "Oh thank you so much for pointing the way to ______. I sometimes get a little lost and confused and need help. We have maps and phones to help us get places don't we? Sometimes we have to ask another person for help too!"

 In the Bible story for today, Jesus is telling the disciples that there is room for everyone in God's house and that he would soon be returning to God to live there. Jesus says that they should know the way because they have been hanging out with Jesus. But the disciples were confused and didn't know the way. They were probably thinking that they could use a map! But Jesus tells them that HE is the way. Jesus is like our map in life. When we wonder what to do or say we can look to what Jesus did and said. Should we be nice to people? Yes! Should we help people? Yes! Should we tell people about how much God loves them? Yes! Jesus also says that if we get confused that we should stop and ask someone for help! We need each other to help us to remember the way to love and follow Jesus. Do you think that all of these people here will help you? Yes!
To help us remember that Jesus is our map in life, here is a cross made out of a map for you to take home.

 Let's pray: Dear Jesus, thank you for showing us the way to love each other. Thank you for reminding us that even if we get confused there are people who will help us. Help us to show your love to everyone. Amen.

 Make the sign of the cross on each other and say: Remember that Jesus is the way, the truth and the life.