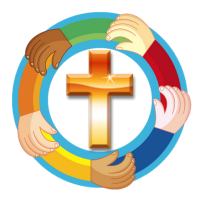 This children's sermon based on Philippians 2 & 3 can be adapted and used for other texts that focus in on grace as a gift and how that is lived out. For Philippians 2 it focuses on the Christ hymn and the image of Christ come down to us. On Philippians 3 it focuses on grace is a gift and that we have the 'prize' of grace and can live that out. 
 The original concept is adapted from a children's sermon by Pastor Michael Stadtmueller. 
Preparation: A wrapped gift box where you can take off the lid, bread inside the box, a ladder (you could also place the gift box on the altar and 'pretend' a ladder)
Faith+Gather: Have the ladder up front with the gift box on top. Gather the children near the ladder, but in a safe sitting position (especially if your ladder is very tall!)
"Look up there at the gift on top of the ladder. We hear a lot about grace in our Bible and one way to think about grace is as a gift. So I was thinking that sometimes we spend a lot of time thinking about how to get that gift."
Walk over to ladder and get ready to climb.
Ask the children, "What are things that you do to please or serve others?" Get some ideas from the kids or supply your own if they are quiet. Examples could be that we listen to our parents, then climb up one rung. For each example you say, climb another rung but stop before you are at the top.
"So we can do all these things and they are good and look I am getting closer to the prize. But you know what, then other things happen. Like maybe I hurt my brother or sister (go down one rung) or I didn't listen when my parents asked me to do something(go down another rung). Give a few examples that put you back on the floor.
"So now, it's pretty hard to get to the top." 
Faith+Share: "But you know, that is not grace. Grace really is a gift. So we don't really have to go get the prize in order to have grace in our lives." Climb the ladder, get the gift and bring it down to the center of the children.
"See God's grace is not something we have to get on our own. It comes to us. God brings grace to us because it really is a free gift. And we have this gift with us and then we can go out and share it with others and live in service because we know how much we are loved by God."
Open the box and take out the bread. "We know that Jesus told us to remember him through eating bread. And we eat bread at communion. And we can have a taste now (pass around bread). We know that Jesus is with us and we have this prize, this gift of grace that gives us the love and the will to go out and live our lives in grace." 
Place the gift box on the altar as a reminder for everyone during communion.
Faith+Prayer: God, thank you for the gift of grace and the gift Jesus. We are grateful that you are with us always. Amen
Faith+Blessing: Take a big piece of bread and go share with others. Or make sign of cross saying, "God in my head, God in my heart, God on my left, God on my right."
~LB