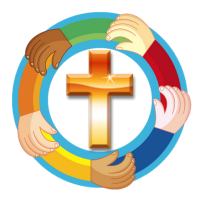 This children's sermon is based off of the Romans 10: 5-15 focusing on verse 15.
Faith+Open: Gather the children up at the front and welcome them. You may want to have them sit in a circle at this time so that when you do the faith + blessing they are already in a circle. So when your teacher at school wants you to know something important what does he or she do? Answers may range from telling the students about the subject matter, showing a video, or showing an object that is related to the lesson, etc. That's right! When someone has something important to tell us they will use all kinds of different ways to tell us, not just with words! Did you know that you have something very important to share with everyone you know? You do! God! We are supposed to tell everyone we know about how much God loves the whole world. But it's hard sometimes isn't it? We may forget or get embarrassed or wonder what we should actually say.
Faith+Share: But this morning the Bible tells us that we can't keep this wonderful love of God to ourselves! God sends us to school, the playground, to baseball practice, to our friends houses, everywhere, to tell about God's love. Now we don't always have to use our words we can share God's love by helping people and by being a good friend, but our words are important too! It says in the Bible "How beautiful are the feet of those who bring the good news!" Well, your feet bring the good news of God! And your feet are beautiful. To help you remember that you bring God everywhere you go we are going to do something special this morning. We are going to bless your feet! And we are going to give you a safety pin with red beads on it to attach to your shoe or sock to remind you that you bring the good news of God's love everywhere you go!
Faith+Blessing/Faith+Prayer: Hand out the pins with the beads. Have other adults handy to help attach the pins to shoelaces or socks. Then do this blessing: Have all of the kids stand in a circle and put their foot with the pin attached in the circle. Pray: Dear God, thank you for all of these feet that spread your love in the world. You use all of our feet whether they are big or small, walk slow or fast or can walk at all. You promise to be with us always and we know that we can share your love with everyone we meet. Thank you for sending us! In Jesus name, Amen.
If you can't get the pins made in time for Sunday, gather the materials in a baggie to give to the children to make later at home. You could expand this blessing to the entire congregation! Adults may like the pin as well!