Preparation: Bring with you at least 3 different phones. One with a cord, one cordless, and one cell phone. Also make a play phone with 2 cans and a string

 Gather the children to you. Welcome them and let them see your play phone. Show them how you love your phone, and especially that you love to talk to your friends on it, but tell them you want to get the best phone possible. And show them the 3 phones and let them help you decide which is the best.

 Say, "In today's gospel the disciples were also trying to learn the best way to talk to God in prayer. And Jesus shared a prayer with the disciples in today's gospel that we say in church every Sunday. Do you know what we call that prayer?" (Wait for the answer) And then say, "But Jesus is clear that it isn't about having the best prayer. It's about praying to God and knowing that God hears our prayers.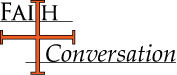 Point to the phones again and say, "So Jesus knows that we don't always know how best to pray. Sometimes we think our prayers aren't the best kind." (Hold up the tin cans and string.) "We worry that God won't listen, but Jesus Promises they are heard no matter what our prayers look like. (Pointing at all the phones)

 Jesus hear our prayers. Help us to always come to you with our joys, and our struggles and fears. Thank you for listening. Amen

 May your words be a gift to God and the world. Amen
Submitted by Pastor Michael Stadtmueller