This passage in Luke is two parables about something being lost and found. This particular text lends itself to being acted out with younger children or youth. A short game you can play with young children to introduce the concepts is to play "hide and go seek" or to hide an object for them to find and bring to you. (You could even hide a coin or two!) Then read the story or act it out.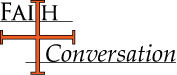 For children: Have you ever lost something special to you? What was it and did you find it again? If you didn't find it how did you feel? If you did find it how did you feel? Have you ever been "lost" or separated from your mom or dad in a store? It's kind of scary isn't it? Your parents were so happy when they found you and I bet that you were happy too! Jesus tells us that God looks for us everywhere and all the time. There is nowhere that we can go that God won't find us! No matter what we do or what we say God will find us and love us! God
For youth/adults: Sometimes it feels like we are so hidden from God that we can never be found. The alternative rock band Evanescence asks two questions in their song Tourniquet-"Do you remember me, lost for so long?" and "Am I too lost to be saved?"* Jesus offers these parables to give a resounding "YES!" to the first question and an equally forceful "NO!" to the second question. God searches for us high and low in order to bring restoration and grace to us. There is nothing that we have to do to receive this grace. The word "repent" in verses 7 and 10 is not about confession but is from the Greek word metanoia which means to turn around or to change one's mind. God always offers us the opportunity to turn toward God-over and over again-every single day. How will you rejoice with God about this gift? How will you share this good news with someone in your daily life?

 These parables highlight the importance of ALL people to God, especially those that are vulnerable in our society or culture. Contact a local Children's Hospital or a local hospital that delivers babies and find out if there is any need for diapers, hats, layettes or blankets. See if you neighbors will help fill the need!

 Dear Jesus, you search for us in places that we think we can't be found. We want to turn to you and rejoice with you for loving us all. Amen.

 (Make the sign of the cross on one another) God rejoices over you.
*This song is found on Evanescence's album from 2003 Fallen. The official video can be found on YouTube.