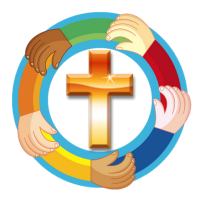 Preparation: Have a 2×8 (or so) strip of paper for each person in the congregation. You will be making a paper chain of prayers. Have a large enough cross available to place the chain of prayers on the cross. You will also need clear tape.

For this children's time have the children stay with their families instead of bringing them forward. Ask all the people gathered to shout out what time of day they pray. Before a meal, bed or other times? Do they use formulaic prayers such as the common table prayer? Or their own words?

Ask everyone gathered for worship, "Turn to the person next to you and tell about a time when you were so excited or worried about something that you couldn't wait to tell someone. GO!" (Give them a couple of minutes.) We love to share with someone when we are excited or worried don't we? Well, Jesus is showing us today in this story from John, that prayer can be like that: something that we are excited, nervous or worried about God wants us to talk to her about! We don't have to use fancy words and it doesn't have to be a special time. We can talk to God anytime, anywhere about anything!
God hears and understands our prayers no matter what all of the time. What's important to us is what is important for God to hear. Talking to God about everything helps to connect us to God and to know that God is with us always. Prayer also connects us to each other as the people of God. We can pray for each other as Jesus prays for his disciples and we can pray for all people to love each other.

Faith+ Prayer: Depending on the size of your congregation or how you choose to do children's message today, have either a group of about 8 children volunteer to help pray at the end or go around your worship space. Do the "one word prayer" where someone starts off with saying one word and then as you work around the group each person adds one word. Example: Dear. Jesus. Thank. You. For. Today. This might take a little while but its fun to build off of each other in prayer!

Make the sign of the cross and say: In God you have eternal life.
*Faith + Worship: Prayers don't even have to be words, they can be thoughts or songs or pictures! Today during Open Space (sacred reflection time) you can draw, write, or doodle a prayer to God on this strip of paper. (About 2 x8) When you are done writing/drawing connect your strip of paper to the pray of your neighbors like a paper chain on the cross. (Have a cross of some decent size with a paper circle already started for the chain. Have this station where it is accessible from all sides for ease. Tape them together on the inside where nothing is written or drawn if you can.) All of our prayers connect us to God and to each other. After worship, find another person's prayer to take home for the week to pray.